Summer is still a few months away, which makes it an ideal time to start planning an outdoor renovation for the warmer weather.
Here are some outdoor renovation ideas to get you started.
Outdoor pools and decking
These days there is are loads of ideas to choose from when it comes to pools. There are infinity 'edgeless' pools, glass-edged pools, pools with their own waterfalls, lap pools, spas, natural-looking salt pools and many more.
The decking around your pool can also contribute to the design. This can be made from a variety of materials such as timber, poured concrete, pavers or stone tile, depending on the style and look you want.
Entertainment spaces
If you love entertaining outdoors, it's important your outdoor spaces are comfortable enough for people to linger in them.
There are plenty of ideas for elements to incorporate into an entertainment space – for example alfresco zones, an entertainment system, festive lighting, a fire pit, fireplace, pizza oven, outdoor kitchen, big pot plants, green walls, water features, and a glass-enclosed or screened patio area for shelter.
Shaded areas and garden
The ideas for garden and shaded areas are pretty much endless. How's these for starters? A pergola with climbing plants, 'secret' garden hidden behind a hedge or old gate, Japanese-inspired water garden, or Italian-style patio with white-washed stucco columns and overhead plants.
Quiet-time spots
While entertaining can be fun, sometimes you need a little space to yourself to chill out or read a book. This might call for creating some private hubs in your outdoor spaces – such as sheltered reading nooks or mini-pergolas.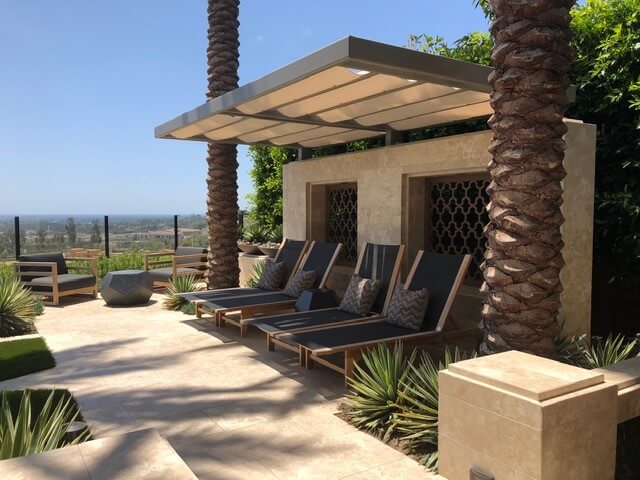 What to consider in your outdoor renovation
Here are a few considerations for planning your project.
Theme: ideas for this include minimalist modern, coastal / beach, old English, Roman / Greco, Italian, eclectic and so on. Ideally however, your theme should reflect your existing home.
Comfort: an outdoor space is not going to be used much if it lacks comfort. Elements like outdoor seating, furnishings, shade and heating help to ensure your space gets used.
Safety and council regulations: it's essential your space is safe. This includes installing pool fencing and safe balustrades, and generally adhering to building safety codes and local planning regulations.
Get in touch
If you are considering an outdoor renovation or you already have some outdoor renovation ideas in mind, get in touch with us for a chat.